ABOUT FUQUAY GUN
From its small beginning, Fuquay Gun has grown over the years because of our intense focus on providing excellent quality and service to our customers.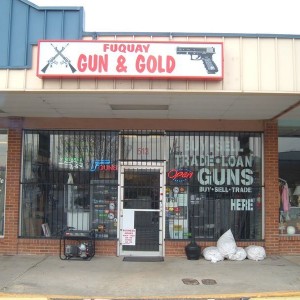 Clay Ausley opened Fuquay Jewelry & Pawn in October 2004 in a small retail shopping center in Fuquay-Varina. This store was intended to be a pawn shop with an unusually large amount of guns and accessories due to Clay's love for firearms. By February 2005 the small shop was busy enough that Melissa Ausley (Clay's Lovely wife) had to jump in to give him some assistance so Clay could spend more time on the gun counter.
In the beginning, there were many jokes about the amount of merchandise not in the store. One customer said "I have more guns than this in the back seat of my truck." and it may have been true, that first year was tough.
Thankfully, Fuquay gun had some awesome customers, and during the first 2 years brought enough referral and word-of-mouth business to keep the doors open.
The Breakfast table at the local Bojangles was an awesome advertising tool thanks to a group of retired locals who would start their day at Bojangles with coffee and a biscuit and then visit the pawnshop as their usual 2nd stop for the day.
Fuquay Jewelry & Pawn started setting up at the Dixie Gun and Knife shows in Raleigh NC with only 1 table of guns and some ammo cans. Clay knew the business was growing and needed an infusion of cash to go to the next level so he sold off his beloved bass boat and other personal items to give the business that much-needed extra cash flow. Now in the 3rd year, inventory and customer levels went through the roof and it seemed as if this idea of having good, knowledgeable customer service and good prices was working out.
Fuquay Jewelry & Pawn had several customers turn part-time employees willing to work for guns who really helped out until we could hire Rob Edwards as our first full-time salesman. In the 3rd year, Fuquay Jewelry & Pawn outgrew its retail space and customers wanted more guns and accessories, so the pawn idea was put on the back burner, making room for more guns and accessories. We also picked up some awesome, knowledgeable salespeople to help on weekends and at gun shows (which were now between 8 and 10 tables and over 450 guns). These gun shows were an awesome way to get the word out about Fuquay Jewelry & Pawn selection and service.
The fourth year was a major year for growth now having the largest display of arms at the Dixie Gun Show in Raleigh, displaying over 700 firearms with the help of our Gun Show Team consisting of 12 truly dedicated, hard-working individuals. (Click here to see the crew.)
Fuquay Jewelry & Pawn no longer pawned anything other than guns and gold, so the name no longer fit, especially when you walked through the door and there was nothing but guns and accessories, so the name was changed to fit the business. Fuquay Gun & Gold was the new name.
The business would still loan money on your guns and gold, but would only sell shooting sports merchandise.
During the fourth year, Fuquay Gun hired Tommy to assist in the daily management of operations and customer service. he has proven to be a true asset to the company and its customers. In the fourth year, it was decided that the company's time and efforts would best be served in the retail location instead of at gun shows, especially since most customers now knew of the shop and its location.
The end of 2009 brought a presidential election for the record books, sending gun sales to unprecedented levels. These new highs in customer traffic required the assistance of many part-time employees (extra special thanks to all).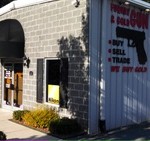 The new location has proven to be a good move with new customer traffic. The 5th year was a very fast-paced year of Obama gun sales, multiple news interviews about gun sales, ammo, and firearms shortages, and during all of this Fuquay Gun was in desperate need of more retail space. There were 2 retail buildings Clay had a serious interest in owning if either ever came up for sale, and guess what happened during the Obama gun run, that's right, one of them hit the market. Again, Clay sold off some assets to make the ultimate dream come true and 6 months later Fuquay Gun had its own building with a private parking lot to fit 25 and additional parking on the curb and neighboring lots of at least 30 more spaces. March 3, 2010, was the Grand Opening at the New location 330 South Main (hwy 401) Fuquay Varina You can't miss the huge Glock on the side of the building (over six feet long). Now, with the move to a new building, Fuquay Gun needed additional force, and in walked Shawn Lane who proved to be a valued player on the Fuquay Gun Team.
Clay and Missy purchased an awesome home place in the country and they built a private classroom and range. It has pleasant covered shooting positions with ceiling fans, lighting, and a restroom to make sure the students are comfortable. Then came the instructors! They now have on staff two Raleigh Police officers, David Page and John Owens, who do the majority of the training and conducting classes. (Please see the classes section of the website).
Fuquay Gun decided to offer Class 3 items such as sound suppressors, short-barrelled rifles, shotguns, and even the occasional full-auto firearm. As of June 2012, we are now a dealer for many of these items.
We also have Beau, a new addition to the Fuquay Gun Team. Clay and Missy took a trip in celebration of 15 years of wedded bliss and when they returned, they had a surprise waiting for them. It appeared that at one year of age, Beau's owners got tired of him getting bigger and thought the Ausley place looked like a good home to throw him out, as was witnessed by a neighbor. Needless to say, Missy is taking good care of him, as he eats better than Clay most of the time! So, Beau will be the company mascot at the Ausley Residence / Fuquay Gun Training Center. He is a Border Collie mix and is very smart, and yes, he gets along great with Hunter the store mascot.
The biggest complaint at Fuquay Gun was that we were not open on Sundays. Some customers travel hours to get to the store and it was very discouraging to find it closed. So, effective 7-22-2012, we began to open on Sundays, 11 am – 5 pm. This proved to be a great move for us, especially with the 2012 Obama Gun Run II starting.
The 2012 Election Cycle was a very busy time in the shop providing multiple interviews with different media outlets. One news crew even spent the day at the store filming live on location. FYI, any reporters who are granted interviews are instructed to only speak with and film customers who are willing. This has worked out quite nicely. The OGR II was a very uncertain time as many worried that he would enact gun control legislation with his 1st term behind him. This ensured that we were always active and working to fulfill the demands of our customers.
Eight years into our endeavors, America was struck with yet another great tragedy. On the 14th of December in 2012, Adam Lanza took the lives of 20 children and 6 adults and injured 2 adults and 12 children before taking his own life in an unprovoked and barbaric attack. The country was shaken and entered into a period of mourning. Amongst the tears, many began to push for more stringent gun control and an all-out assault on the 2nd Amendment started the next gun run of 2013. This became the highest gun sales year in history. We were no different and did our best to keep up with the extreme demand for products and services that our customers wanted.
This was what some called the perfect storm in the gun industry.
The Obama Gun Run II resulted in folks buying much-wanted firearms before the reelected president could change any laws making it more difficult to purchase or restrict what could be purchased.
The 2 Obama Gun Runs have actually created more new shooters than anything ever seen and these shooters are buying guns and shooting in addition to all of the folks that have been shooting most of their lives.
Christmas time is always the busiest time of the year in gun shops, guns make great gifts.
Sandy Hook has now sparked more anxiety that there will be new legislation changing how we buy or what we can buy.
All of this happened at the same time to create the worst ammo and gun shortages America has ever seen. This was a time when most gun shops resorted to raising their prices under the guise that because supplies were limited, prices had to go up. Unfortunately, they were marking prices up by up to 1000%. Yes, that is not a typo. Very few manufacturers or distributors actually raised their prices and most of them that did only did so by 5-10%. While other shops were using this method of scalping, Fuquay Gun maintained their prices and only raised them to coincide with the rising distributor costs. This fair business practice had customers lined up at the FG&G doors most mornings. Everyone wanted to get a piece of our morning shipments of guns and ammunition. One particular day, there were 94 clients in line to get in when the store opened. Fuquay Gun did not raise prices and this was quickly evident among most of the gun and ammo buyers within a five-hour drive. FG&G quickly began to be known for selling guns and ammo for less than half or even a third of what most shops were charging for the same product. In fact, many dealers were marking their products so high that they would attempt to buy merchandise from FG&G and resell it at double the price. FG&G did their best to stop this practice whenever they could. Many of the local dealers did not appreciate the fact that FG&G did not gouge their prices, but FG&G decided to stay the course they had plotted from the beginning and focus on giving their customers the best service, selection, and prices they could. They were certain that their customers would appreciate it and they did. FG&G increased its customer base exponentially in the first six months of 2013 by simply taking care of its customers instead of taking advantage of a very bad situation. It really worked to FG&Gs advantage because distributors were more inclined to provide them with hard-to-find firearms and ammunition when word of their non-gouging pricing policy reached their ears.
In 2012 and 2013, their fair business practices brought them so many new customers that they once again outgrew their facility. The biggest problems they had in 2013 were a low supply of products and a HUGE amount of folks wanting to buy them. Now, that demand was back down and supply was up, they were drastically out of room! Clay and Missy went out in search of an ideal property to build the ultimate new Fuquay Gun location. The market was just right and they quickly purchased the prime location on the north end of Fuquay-Varina. Road traffic alone is three times more than at the old location. For those of you who are familiar with the area, this location was formally the old T's Tackle, and, before that, it was Kicks, the local watering hole back in the late '60s and early '70s. Many of the local hot rods would meet there before drag racing up and down Highways 42 and 401. Boy, times have changed. So the new location is actually a fairly historic piece of land in our growing community.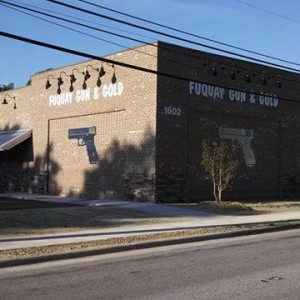 In 2014, we started our 10th year in business and started with the construction of the new facility. This went astonishingly fast. Construction started on March 15, 2014, and was finished merely two months later. Fuquay Gun even received a lot of free advertising from several different media venues because a couple of folks in town were not happy with the signage choices on the front of the new building. I guess it's true. No advertising is bad advertising. This sign debate really sparked massive interest in their new location and they were blessed with the support of our customers throughout the entire debacle.
The new facility is 4 times larger than the previous facility and allows the now 17-member team to stock many more items and expand existing lines as well. Fuquay Gun is now out of the downtown district, so they will have much more room to have events and customer appreciation days. Be sure to stop in and see the new facility. The 10-year anniversary and Grand opening was held in October and was met with much success and excitement.
The next 2 years would reveal some of the greatest growth in Fuquay Gun history. FG&G continued to hire more help and stock more merchandise. These practices help the client base grow and grow. The buildup to the 2016 election would also prove to be times of high volume sales with many customers fearing the unknown as far as their 2nd amendment rights are concerned.
On November 8, 2016, The election of Donald Trump. Fuquay Gun has had a growth pattern that most businesses would only dream of. The election of Donald Trump was not great for the firearms industry as a whole. Many gun stores and even some of the largest firearms distributors in the world soon fell to what the industry called the Trump Slump. Fuquay Gun well they kept doing what they do and did a lot of bulk purchases and even bought out the inventory of a couple of shops that could not make it. Fuquay Gun weathered the storm and even continued to grow during the Trump Slump which was nearly unheard of from 2017 to 2019.
2018 and 2019 were great years for FG&G growing during a downturn is not easy. This growth during difficult times was recognized by many major players in the firearms industry and some awarded Fuquay Gun with Dealer of the Year and similar awards. They have many proudly on display at FG&G.
FG&G has handled many thousands of firearms but there was one that Clay wanted and had been trying to get back for years. Clay wanted that first gun sold back and in 2019 that became reality. Thanks to the family of Joe Allan Blake, FG&G now has on display the first gun they ever sold. They are very grateful to the Blake family and have the gun displayed in a shadow box in honor of him. RIP Mr. Blake.
Here they grow again with all of the bulk purchases and opportunity buys FG&G was now out of room yet again (unbelievable). There was so much inventory that literally it was a challenge to get from one side of the backroom to the other. There was only enough room on the property to add another 2400 square feet until one day Clay and Michael Haller (neighboring Allstate Business) were able to come to terms on the back half of his property. Construction started in August 2019 and was finished in early November 2019. Thanks to Michael Haller Fuquay Gun was able to add another 6500 square feet to the property and another 15 parking spaces. Fuquay Gun now has a much-needed warehouse and office space.
Fuquay Gun now employs over 37. Fuquay Gun is known to be the highest volume arms dealer in NC and one of the largest independently owned gun stores in the nation and they reflect daily on where they came from and appreciate their customers for making this a reality.
2020 is election year again and business is already starting to reflect it. Uncertainty of the 2nd amendment again. Some politicians are stating they will run over our gun rights so 2020 will be a busy year for sure. GO VOTE!!
In March of 2020 in comes the Coronavirus gun run. With the uncertainty of the virus and the fear of being out of work and having to deal with defending homes and property many ran out and stocked up on guns and ammunition. Guns and ammo were already low in supply due to the gun run in Virginia in 2019 (Virginians were fearful of losing rights so there was an 8-month buying spree there). So here we are with another perfect storm, Low supplies, Election Year, Corona Virus all contributing to record sales and record lack of inventory in the industry. To add to all of this there is civil unrest that is causing rioting and destruction of property that is also driving people to arm up and defend life and property.
The great customers of Fuquay Gun are the reason for its success and it is greatly appreciated by the entire Fuquay Gun Team and their families. Thank you and please let us know what we can do for you and your shooting needs!