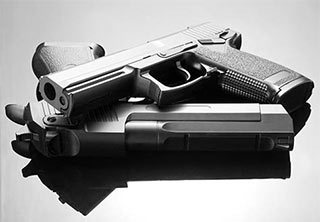 Fuquay Gun offers firearm transfer services to our neighbors here in Fuquay-Varina, as well as Raleigh, Cary, Fayetteville and the surrounding areas.
Did you find that perfect firearm online? Want to buy a gun from your next door neighbor? Protect yourself and legally have that firearm transferred at Fuquay Gun & Gold.
There Are 2 Types of Firearms Transfers
You purchased a gun from an out-of-state dealer and want it shipped to us for final transfer to you. Please call us a 919-552-4945 (option #4) so we can get the process started. We can fax or email a copy of our FFL to the party shipping the firearm.
You want to purchase a firearm from another private party. In order to do this legally, your best bet is to come into the store with the seller. The gun is transferred into our inventory and out of the seller's name. You will fill out the Federal Firearm Purchase Form and present current identification and, if applicable, a permit to purchase. We will verify the background check and upon successful completion, transfer the firearm to the new owner.
Our fee for firearm transfers is $35.00 per gun. WE DO NOT charge a transfer fee when buying a gun from Fuquay Gun.
We do not accept NFA transfers.